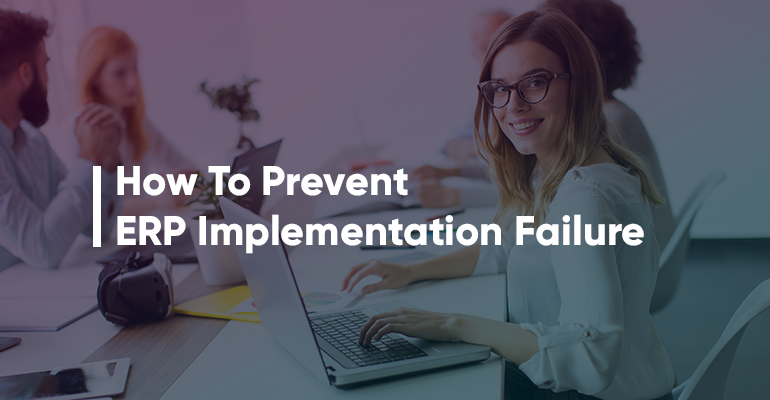 How To Prevent ERP Implementation Failure
How To Prevent ERP Implementation Failure
Most mistakes made during the implementation of ERP do not become noticeable until later – usually when it is too late. Contrary to this, a company is likely to succeed if ERP is properly implemented. On the other side, if not accurately implemented, it would lead an organization to fail in terms of both resources and profitability. ERP software is key to the success of companies. Regardless of how large or small, the company is, if an ERP is implemented correctly it provides the management with all the required inputs and information. It allows the company to better develop the channel of communication between customers, suppliers, and employees. This can handle by integrating multiple tools such as Human Resource, Customer Relations Management, Inventory and Marketing, Accounting, Supply Chain to attract clients, fight rivals and cut costs.
We all exist in an era of "Survival of the Fittest." If something goes wrong then all our efforts are in vain. We all know how an ERP works wonders and magic in the efficient running of an organization, how it handles business workflows productively and how they boost the work culture of companies by making internal communication behavior quicker, cheaper and smarter. It is also well understood that the right implementation of ERP is accompanied by a large number of cheers while at the same time an incorrect implementation of ERP leads to more negative effects, including loss of revenue, reduction of the selling price, loss of market share while competitive advantage.
To be clear, the number of failures in implementing ERP is due to failure to achieve the main business goals effectively, which involves the following:
Implementation on time
Operational efficiency assurance
Higher productivity assurance
Operational cost reduction
Sales and revenue growth
Spending plan exceedance
Now let us focus on the critical factors that should be considered for avoiding ERPImplementation failure.
Not all implementation of the ERP is ill-fated. Yet there are growing numbers of failures as well. However, the businesses can reap limitless benefits and returns from implementing ERP when implemented with care and appropriateness. are a few methods that can help you prevent mistakes in implementing ERP.
Change management should be ensured

Never underestimate the significance of users when implementing ERP. Unless the users struggle to make successful use of the program, the project would never bear the fruit that you expected it to deliver. Therefore, understand the concerns that users can have when changes happen at their desks. The user's resistance to change can be easily reduced by providing them appropriate software training and educating them on how an application will behave under different circumstances. Further adding them to the functionalities would help with the rapid adoption of the application processes and software.
Know what is needed

For an ERP implementation, the most important thing to do is to list the specific business needs. Map all of the company management criteria for efficient and effective management. Defining the main targets and criteria, go to Seller Assessment. Ensure that your vendor is able to provide the service you've requested. Vendors can not typically confuse you with incorrect listings. Unable to take chances, though. So ensure that you have a team that is self-sufficient to take care of the project. Ensure that you have a team that can't be misled with wrong statements in any circumstances.
Don't rush

mplementation of ERP is one of those business procedures which needs adequate time. But overwhelming them with unrealistic time frames at the end of the cycle may create major problems resulting in failing to achieve the desired results. Many variables should be included in the implementation of an ERP, and it should be prepared and coordinated accordingly. Rushing would result in missing the big segments in the future leading to a huge loss for the company. In reality, the decision to execute the project within an arbitrary timeframe paves the way for ERP failures.
The right partner selection

Choosing a trustworthy and experienced partner will get you on top of the right people to make positive business changes. Nevertheless, going for cheap alternatives such as freelancers for implementing ERP will in the later future carry major concerns.
Deploying the right team

Deploying the right team, however, a full team of top-level managers for regular users will create good options and make the right business decisions. Although managers can track progress correctly, users can correctly identify the grass-root need. The ideal mix of junior and senior team leaders will make beneficial business decisions in partnership.
Listen, listen and listen

The company that works together is progressing together. Take input from workers on those daily calls that you have set up about how things are going in their section. Put out surveys, interview staff, and speak to people who daily uphold the transition. The sooner you can find problems, the sooner you can repair the course.

While focusing on the critical factors that should be considered for avoiding ERP Implementation failure, it is also important to analyst the mistakes that could mean your ERP project will fail to meet expectations. By eliminating these you can also achieve success full ERP Implementation. Some of them are as follows:

Not Engaging Executives
Not drawing up a business case
Not having good governance of projects
Treating the idea as an effort in technology
Laying down unrealistic expectations
The ERP implementation path is not a finite one but rather a continuous cycle that needs good relationships to be established. Any software provider worth the time and money wish to create long-term customer relationships. The faster it detects threats, the quicker you can change your project plan to reduce those threats. Consider hiring an ERP consultant for a comprehensive risk evaluation to take advantage of the lessons learned.